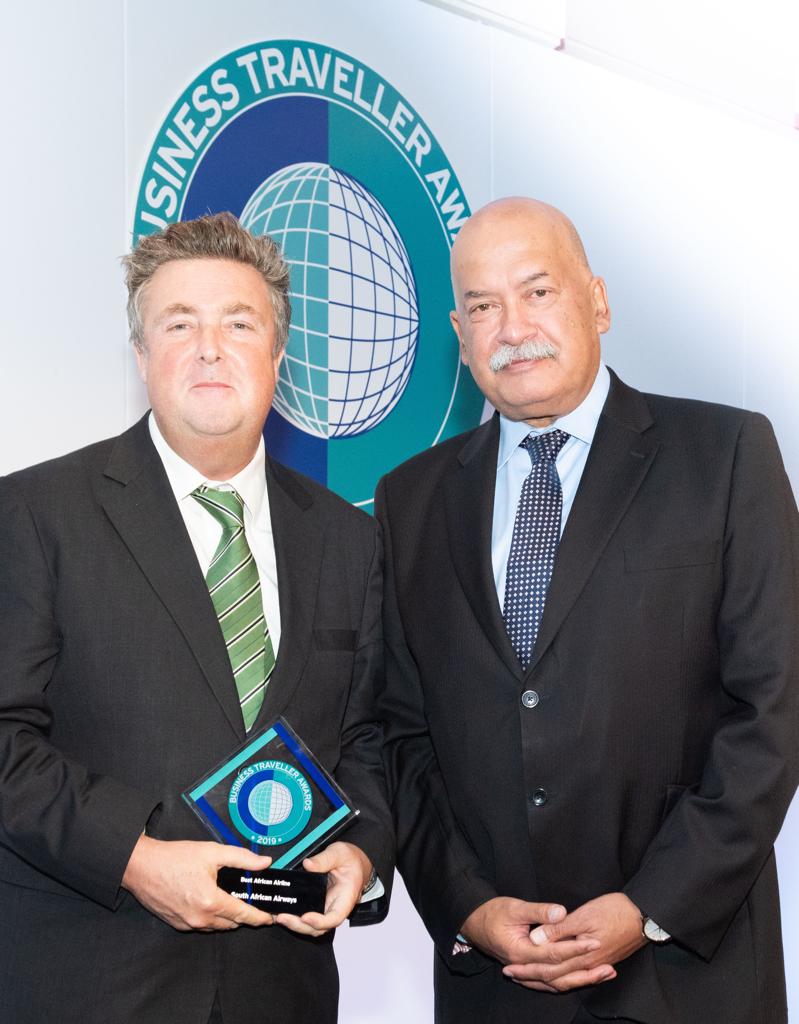 07th October 2019 – South African Airways has scooped the 'Best African Airline' Award at the Business Traveller Awards 2019 in London, the 13th consecutive year that SAA has won the accolade.
Philip Saunders, Chief Commercial Officer, South African Airways, said, "Strong customer service is at the heart of our brand and we're thrilled with the award, voted for by readers of Business Traveller. Since joining South African Airways I have been enormously impressed with the level of pride and dedication that our staff place in the role of looking after our customers. I would like to take this opportunity to show my appreciation for their role in this award, and thank the readers of Business Traveller for voting for us."
Widely regarded as the market's benchmark for excellence, South Africa's national carrier beat competition from Ethiopian Airlines, Kenya Airways and Comair (British Airways) for the title of Best African Airline. The Business Traveller Awards are voted for by readers of the magazine and are designed to reward products and services that the readers themselves value.
The 2019 Awards were announced at London's Royal Garden hotel on Monday October 7 by the publishers of Business Traveller magazine, and presented by special guest, the BBC's Deputy Political Editor, John Pienaar.
- MORE -
South African Airways offers daily overnight flights from London Heathrow to Johannesburg on board the new A330-300, with easy onward connections to over 30 destinations across Southern Africa.
Business Traveller, is a consumer magazine for the frequent Business Traveller. The magazine has been published since 1976 and has 14 editions worldwide including US, Asia-Pacific, Middle East, China, India and Germany.
- ENDS -
For more information contact:
Jon Danks
South African Airways
Tel: 07717 896505
About SAA
South African Airways (SAA) is the leading carrier in Africa, serving 57 destinations, in partnership with SA Express, Airlink, and its low-cost carrier, Mango, within South Africa and across the continent, and nine intercontinental routes from its Johannesburg hub. It is a member of the largest international airline network, Star Alliance. SAA's core business is the provision of passenger airline and cargo transport services together with related services, which are provided through SAA and its wholly owned subsidiaries: SAA Technical; Mango its low-cost carrier; and Air Chefs, the catering entity of SAA. SAA is the winner of the Best Airline Staff Service award in the Africa category; this shows that our customer-facing employees are our true brand ambassadors who made a difference to millions of travelling customers.