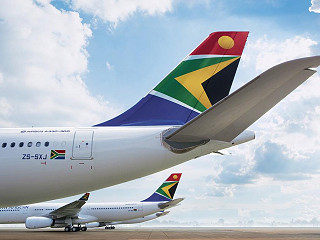 South African Airways (SAA) has been named as one of the top performing airlines globally for on-time performance (OTP) by travel data and analytics company, Cirium.
SAA was ranked in the category for Middle East and Africa, making SAA the leading African on-time performance carrier (2019).
"According to the International Airlines Transport Association's benchmark of OTP, an airline is on-time when it arrives within 15 minutes of the scheduled time of arrival or departs within 15 minutes of the scheduled departure. Customers always have a choice and those who elect to fly with us recognise that we are a dependable airline. We place a high premium on punctuality as measured through OTP. It is one of our most important customer impact performance indicators" said Zuks Ramasia, SAA Acting CEO.
Over 90% of South African Airways' departures from London Heathrow Terminal Two departed on time during 2019. As a member of the largest international airline network Star Alliance, South African Airways operates daily flights from London Heathrow to Johannesburg and connects to over thirty destinations within Southern Africa with a strong mainline regional and domestic network, and in partnership with SA Express, Airlink and its low-cost carrier, Mango. Fares from London from GBP549 return if booked before 31st January 2020.
Cirium works with over 90 per cent of the world's top 50 airlines. The company, which has published its annual On-time Performance (OTP) Review for the past 11 years, provides a definitive list of the world's best performing airlines and airports for on-time flight operations. www.cirium.com