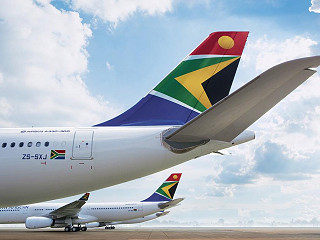 On Thursday 30th January SAA confirmed its (further) intention to cancel and consolidate selected scheduled flights where there is low demand based on current forward bookings for the month of February.
There is no plan to cancel London services during February.
This news followed confirmation on Tuesday 28th January, that the SAA business rescue practitioners secured further post commencement funding (PCF) of R3.5 billion from the Development Bank of Southern Africa.
The purpose of the funding is to provide a bridge to facilitate the development and publication of the Business Rescue Plan by the end of February.
The conservation of cash through various cost reduction measures is critical to running an efficient airline and to create a platform on which a future for a restructured entity can be built. Flight demand has been scrutinised to ensure SAA is running efficient flights.
To this end, SAA will therefore cancel and consolidate selected scheduled flights where there is low demand based on current forward bookings for the month of February. Please check your GDS.
Philip Saunders, Chief Commercial Officer, noted, "We are committed to accommodating all affected customers on alternative flights, operated by the airline and its Star Alliance partners. Any inconvenience or delays are intended to be minimal."
Re-Accommodation Policy due ad-hoc Domestic and Regional cancellations effective 30 January 2020.
· All affected passengers will be re-accommodated onto alternative SAA flights.
· Should this option not suit the passenger's needs, rebook onto any other SAA flight in the same booking class or the lowest available RBD in the same cabin. For JNB-LVI and JNB-WDH, passengers can also be re-accommodated onto BA/Comair in the lowest available RBD.
· If the customer no longer wishes to travel, then the booking can be cancelled and a full refund (including taxes) will be offered to the original form of payment.
· Where possible, rebook onto flight(s) operated by any of SAA's Star Alliance, Codeshare and Interline Partners to transport customers to their final (END) destination with minimal disruption. Lowest available RBD to be booked on Partner carriers in same Cabin.
· Waivers to this policy will not be made.
· Tickets to be endorsed "INVOL SKED CHG due ADHOC CXL FLT NO./Date".
· This policy is applicable to South African Airways flights only and does not apply to Mango, SA Express and Airlink, issued on SA (083) ticket stock and not on separate tickets of other airlines.
· Change of cabin will not be permitted.
· All tickets must be reissued on or before 12 February 2020.
· All additional taxes for ticketed passengers will be absorbed by SAA.
· SAA will not be able to provide any support for Special Service Requests or Unaccompanied Minors during this period.
· SAA reserves the right to amend the policy without prior notice.
· Please check your GDS for news of any further SAA schedule changes or have customers call the UK Call Centre on 0844 375 9680