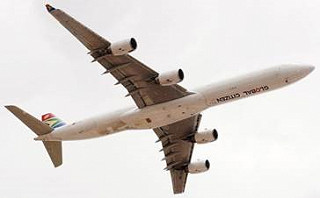 South African Airways (SAA) confirms the departure of SA2239 on Sunday 12th April 2020 between London Heathrow and Cape Town. 
Working in close co-operation with the South African Department for International Relations and Cooperation the service had 200 South African nationals onboard, repatriating home, to reconnect with loved ones, friends and family. 
The South African Airways departure was overseen with the expert guidance of Captain Brian O'Donovan and Senior Purser William Engela and their teams.   
In the UK, the government enforced lock-down has upended normal life for millions of people. In the grip of the COVID-19 virus for several months, the UK departure from London Heathrow Terminal Two was overseen by Airport Manager Miranda Lovegrove and her team and served as a dedication to the professionalism and commitment of the wider SAA team managing under these conditions.  
South African High Commissioner to the United Kingdom Ms Nomatemba Tambo said, "I have never been prouder of our national carrier South African Airways than I was today. At 3.30am on Easter Sunday, SAA London turned up in full force to oversee the repatriation of South Africans, a decision to leave their families, to support the South African Government through the Department of International Relations and Co-operation and to ensure that our people returned to their loved ones. Some people were in tears because an opportunity had been provided for them to go home. The SAA ground team were organised, patient, collaborative and I would like to applaud the team for a sterling job. Today, in this COVID-19 era SAA has won many, many new loyal friends, from the passengers, to their families in South Africa."